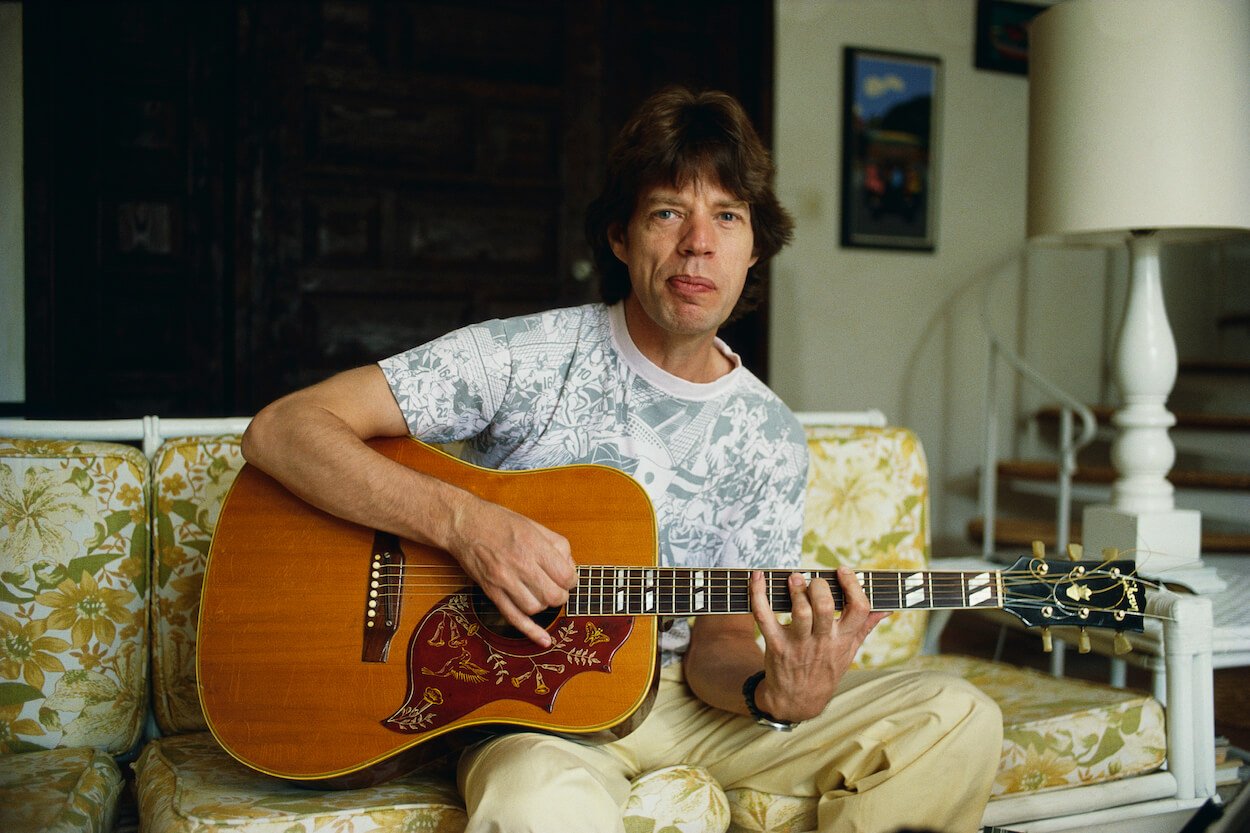 Mick Jagger is more than just The Rolling Stones frontman. He writes many of the band's songs, and even Keith Richards praises his musical talents. Still, Jagger gave up playing one of his signature songs on acoustic guitar, and his explanation makes so much sense.
Jagger wrote Sticky Fingers closer "Moonlight Mile" while on tour in 1970. Initially about the loneliness of life on the road, the singer said the song morphed to focus more on joyful homecoming after the tour ended and he returned home to England. Jagger felt more invigorated and less lonely, per Anatomy of a Song author Marc Myers.
The song came to life on Jagger's acoustic guitar. His hopeful yet melancholy acoustic strumming opens the song and sets the tone. Yet Jagger ditched his acoustic guitar for an electric when playing the song live (per Myers):
"On our 2015 tour, I played electric guitar on 'Moonlight Mile' instead of acoustic guitar, which I played on the original. I played the electric guitar open-tuned, the same way I did on 'Sticky Fingers.' I don't really like how acoustic guitar sounds live. It sounds all banjo-y to me. The amplification of an acoustic guitar isn't really brilliant, you know? To be honest, it's much easier playing electric on stage, because it's more controllable [with] the sound and effects and everything."

Mick Jagger on why he gave up playing "Moonlight Mile" on acoustic guitar
Jagger stopped playing acoustic guitar on "Moonlight Mile," which takes away from the initial spirit of the song, but we understand his reasoning.
Jagger giving up playing acoustic on 'Moonlight Mile' makes sense
Mick wrote "Moonlight Mile" on an acoustic guitar, and the instrument's warmth of the instrument comes through on the studio version. While it might seem like a copout to switch to an electric guitar in concert, it makes sense.
The Rolling Stones haven't played small venues in decades. Their concerts fill arenas and stadiums, and as Jagger told Myers, amplifying an acoustic guitar is hardly a perfect science.
With an electric guitar, a player can more easily control volume, tone, and pickup selection with the flick of a wrist. Unless a guitarist starts with the volume knob at 10, there's always the option to crank a little higher if the audience gets loud. A guitarist can even send the signal directly to the soundboard if necessary, which adds another layer of control.
Since an acoustic guitar relies on vibrating the air around the strings to produce notes and chords, ambient sound could work its way into the signal. Like when you have tens of thousands of screaming fans standing at your feet as the Stones usually do, Miking techniques for an acoustic remain somewhat imperfect. As recording engineer and producer Dave Martin writes for Sweetwater Studios, "As the volume onstage increases, your options will decrease …. When you add other musicians, the amount of your guitar that you can put in the monitor may limit how much you can hear your instrument."
More than 40 years after he wrote a beautiful piece of music, Jagger gave up playing "Moonlight Mile" on his acoustic guitar and swapped it for an electric. When you look at the downside of playing an acoustic in front of thousands of fans in a massive venue, it's easy to understand why.
Mick didn't plan on recording the song for The Rolling Stones at first