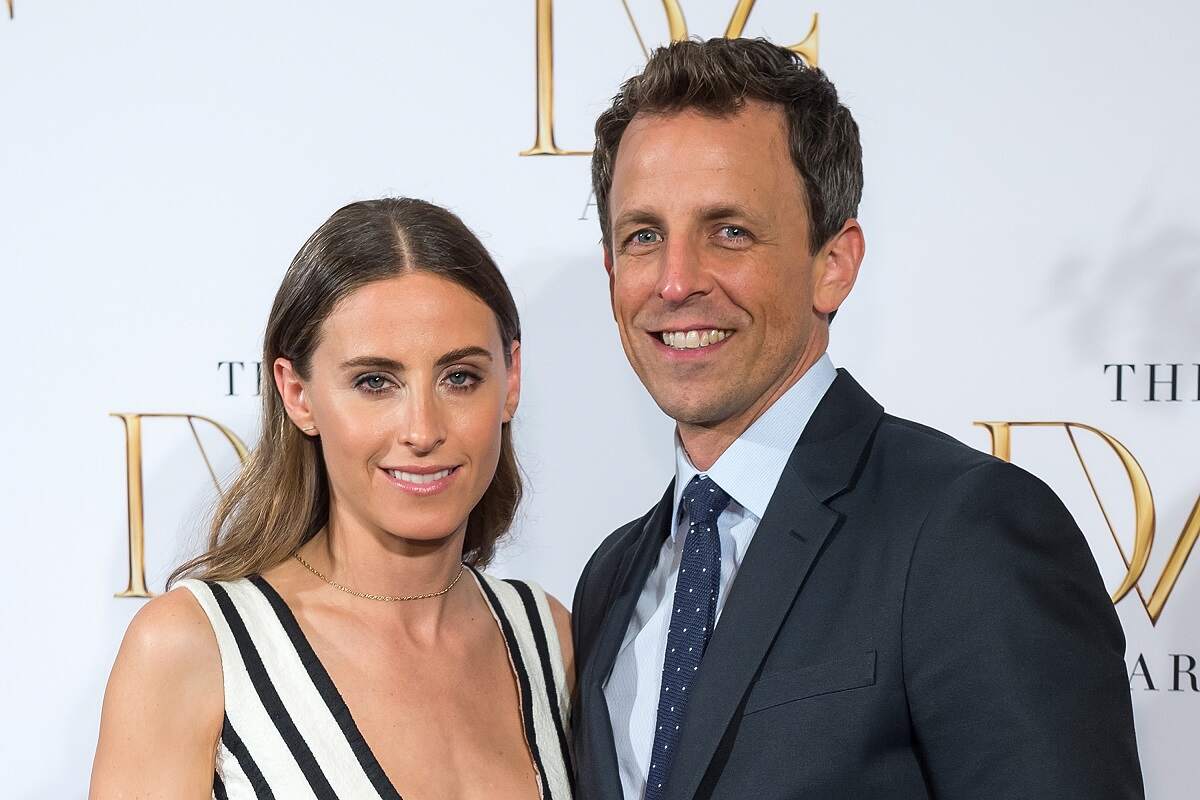 Comedian, talk show host, and writer Seth Meyers is one of the most successful Saturday Night Live veterans. He rose to fame on the sketch comedy show, earning acclaim for his versatility and sharp wit. In particular, fans loved his stint as the host of the parody segment "Weekend Update." After Meyers left SNL, he embarked on a very successful career as a TV show host. To this day, he's going strong as the host of Late Night with Seth Meyers. Even as Meyers has enjoyed a successful professional life, he's had a happy personal life as well. Meyers has been married to his wife, Alexi Ashe, since 2013. And they met through a colleague.
Meyers first crossed paths with Ashe around 2008, at the wedding of fellow SNL alum Chris Kattan. As Meyers told Your Tango, Ashe's sister worked in the set design apartment at the sketch comedy series, and brought her along. Meyers revealed that it was "love at first sight." "I had a sense that she was the closest I'd ever met to someone who I could see myself with," he shared. "Pretty much right away."
Ashe, who works as a human rights attorney, is also a smart, successful professional — and Meyers respects that about her. "You know, my wife works at the Brooklyn D.A.'s office," Meyers admitted. "She's dealing in a far darker world than I am. And she manages to come home and still be bright-eyed and positive. So I have to do the same."
How many children do Seth Meyers and his wife have?
Meyers and Ashe got engaged in the summer of 2013 and tied the knot in September of that same year. Their Martha's Vineyard wedding was attended by family, friends, and other SNL stars. It didn't take long before the couple decided to expand their family. In March 2016, they welcomed their first child, a boy named Ashe Olson Meyers.
Two years later, in April 2018, Meyers and Ashe had another baby boy. Axel Meyers was born in the lobby of the couple's New York City apartment building — a story that Meyers would later recount in his successful standup special.
"We undressed her and the baby was just out. The head of the baby was out," Meyers recalled, according to Parade. "I called 911–this is how fast it happened–I called 911, and over the course of a minute conversation, I basically said, 'We're about to have a baby! We're having a baby! We had a baby.'" In November 2021, Meyers and Ashe welcomed their third child, a little girl named Adelaide Ruth Meyers.
What has Seth Meyers said about his wife?
Meyers and Ashe are still going strong, after nearly 10 years of marriage and three children. Meyers takes every opportunity to gush about his wife.
In 2022, Meyers marked their nine-year wedding anniversary with a sweet social media tribute, even hilariously recalling how she got food poisoning on their wedding day. "9 years ago today Alexi Ashe was in the ER with a bad bout of food poisoning," he wrote on Instagram, according to People Magazine. "If anyone ever had an excuse to back out of a wedding it was her, but she went through with it and we've been married ever since."
"Her performance that day was a microcosm of who she is — a fighter who is always at her best no matter the circumstances," the talk show host wrote. It's clear that Meyers and Ashe have one of those rare Hollywood marriages that is built to last.