For the locals in
Alice Springs
, crime has been a rising problem for months and months.
But the crisis has only just come into nationwide awareness in the past week.
The crime wave is so bad Prime Minister Anthony Albanese had to make a sudden visit to the town.
So why is this incredibly isolated town of about 26,000 in the news?
What is happening in Alice Springs?
Put simply, crime is out of control in the red centre, with residents reporting a surge of break-ins, vandalism and alcohol-related assaults.
The latest data released by NT Police showed a sharp spike in crime in the year ending in November. 
But locals say the situation has gotten worse since then.
Why has crime increased so dramatically?
There's many reasons for the causes of crime in any community, but increased access to alcohol is seen as a major factor in the Alice Springs crime wave.
The Stronger Futures legislation introduced in 2012 restricted the purchase of alcohol and banned it on large swathes of Aboriginal land.
The legislation was in place for 10 years, and expired last year and has not been renewed.
What is the territory government doing to address the problem?
The territory government has introduced strict new bans on buying alcohol.
Takeaway purchases of alcohol will be prohibited on Mondays and Tuesdays, and will only be permitted between 3pm and 7pm on the remaining days. Each person will have a one transaction limit per day.
The measures came into effect yesterday, and will be in place for three months.
The territory will also ramp up anti-crime measures with a boost in federal funding.
What is the federal government doing?
Canberra will put $14.2 million into high visibility police operations, specifically targeting grog running. Liquor licensing compliance inspections will also be increased.
The government will also put more funding into emergency accommodations for young people.
More funding will also be put into domestic violence services, First Nations justice measures, health infrastructure and Indigenous housing.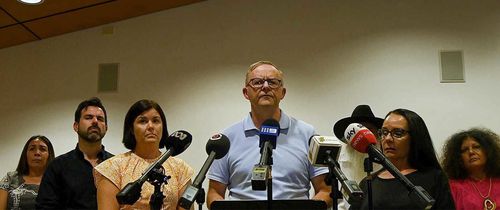 Will the army or the federal police be sent in?
No. Prime Minister Anthony Albanese has already ruled out the use of the AFP to restore order.
"The idea that they have more improved skills than someone who's here on the ground in Alice Springs and the local Northern Territory Police, I'm yet to see anyone put that argument," he said yesterday.
Sign up here
to receive our daily newsletters and breaking news alerts, sent straight to your inbox.