Former Labor leader Bill Shorten has opened up on the unexpected moment of camaraderie that saw him give ex-PM Scott Morrison a warm welcome in Parliament yesterday.
Morrison, who remains the MP for Cook after the recent election but lost both the prime ministership and Liberal leadership, took his seat on the opposition backbench for the first time in years on Monday, after missing the first week of the new Parliament.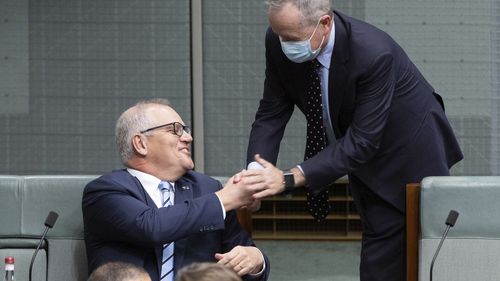 Shorten, whom Morrison defeated in the 2019 federal election, popped around to give his old rival a handshake.
"I think he ran a pretty bloody awful government," Shorten told Today.
"But having said that, he has been at the very top of the tree. Now he is right at the back, and that can hurt.
"So I don't like his old government's values, but I can feel for the person."
That said, Shorten's apparently not wholly sure of his own motivations.
"Anyway, maybe I am just getting soft. Who knows?" he said.