Derek Chauvin, the former Minneapolis, Minnesota, police officer convicted of murdering George Floyd and violating Floyd's civil rights, will not have his petition heard by the U.S. Supreme Court, the high court noted Monday.
The Supreme Court included inmate Chauvin's case denial in its orders list, tucked between numerous other cases that the justices declined to take up.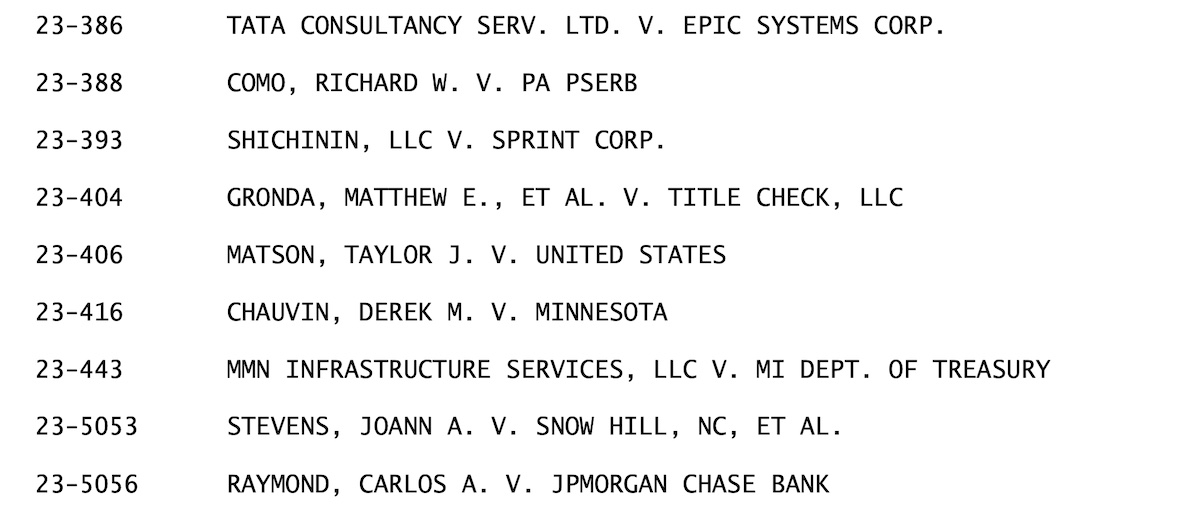 Chauvin's petition for a writ of certiorari, filed on Oct. 16, maintained that he never should have had his murder trial in Hennepin County.
Chauvin argued that "literally daily coverage" of George Floyd's death in the media locally and nationally, combined with "catastrophic violent riots" and the threat of "further rioting" in the community, meant jurors had a "vested interest" in reaching a guilty verdict regardless of how they interpreted the evidence.
"Mr. Chauvin's case shows the profound difficulties trial courts have to ensure a criminal defendant's right to an impartial jury consistently when extreme cases arise. Mr. Chauvin's case demonstrates how a presumption of jury bias and community bias is a necessary stand-alone constitutional inquiry," wrote Chauvin attorney William Mohrman. "This was particularly true here when the jurors themselves had a vested interest in finding Mr. Chauvin guilty in order to avoid further rioting in the community in which they lived and the possible threat of physical harm to them or their families."
More Law&Crime coverage: Convicted murderer Derek Chauvin's prison emails revealed as he cites pathologist's alternate theory George Floyd was 'literally scared' to death
The petitioner asked the Supreme Court to answer two questions, the first of them urging the justices to agree that Chauvin didn't have a fair trial under the Sixth Amendment because there couldn't have been an impartial jury under the circumstances.
Read Related Also: Faith Jenkins Teases What To Expect From Season 2 Of Killer Relationship – Exclusive
Chauvin, by way of example, pointed to the fallout from then-Brooklyn Center Police officer Kim Potter's shooting of Daunte Wright on April 11, 2021, a shooting which took place during Chauvin's trial and was addressed by the presiding judge Peter Cahill.
The judge responded directly to Rep. Maxine Waters, D-Calif., who, after Wright's death but before the Chauvin verdicts, urged protesters to "get more confrontational" and "make sure that they know that we mean business."
"This goes back to what I've been saying from the beginning," Cahill said of Waters and on the question of whether the Chauvin jury had been prejudiced by the congresswoman's remarks. "I wish elected officials would stop talking about this case, especially in a manner that is disrespectful to the rule of law and to the judicial branch and our function. I think if they want to give their opinions, they should do so in a respectful and in a manner that is consistent with their oath to the Constitution. To respect a co-equal branch of government. Their failure to do so I think is abhorrent, but I don't think it has prejudiced us with additional material that would prejudice this jury. They have been told not to watch the news. I trust they are following those instructions, and that there is not in any way a prejudice to the defendant."
Chauvin suggested that the judge erred by refusing to "change venue or sequester the jury after another riot" over Wright's death.
The petition focused secondarily on the post-Chauvin trial revelation that Juror 52 attended a march in Washington, D.C., and wore a "get your knee off our necks" T-shirt and a Black Lives Matter baseball cap.
Derek Chauvin prosecutors defend juror who wore 'get your knee off our necks' shirt, attended pre-trial rally
"The error of failing to change venue without consideration of presumed bias, is compounded by evidence of juror stereotyping of police officers and animus to the Mr. Chauvin," the petition continued, outlining the second line of argument in the since-rejected petition. "The appellate court affirmed the trial court's decision not to hold a hearing to inquire about the juror's acts or actions, or influence on the jury during deliberations."
We want Law&Crime to be your favorite destination for all things true crime
To continue bringing you the very best content, we rely on valuable feedback from our loyal viewers. We invite you to take a brief survey about the kind of programming you want to see more of from us. Participation is anonymous and will only take about 3 minutes.
Have a tip we should know? [email protected]