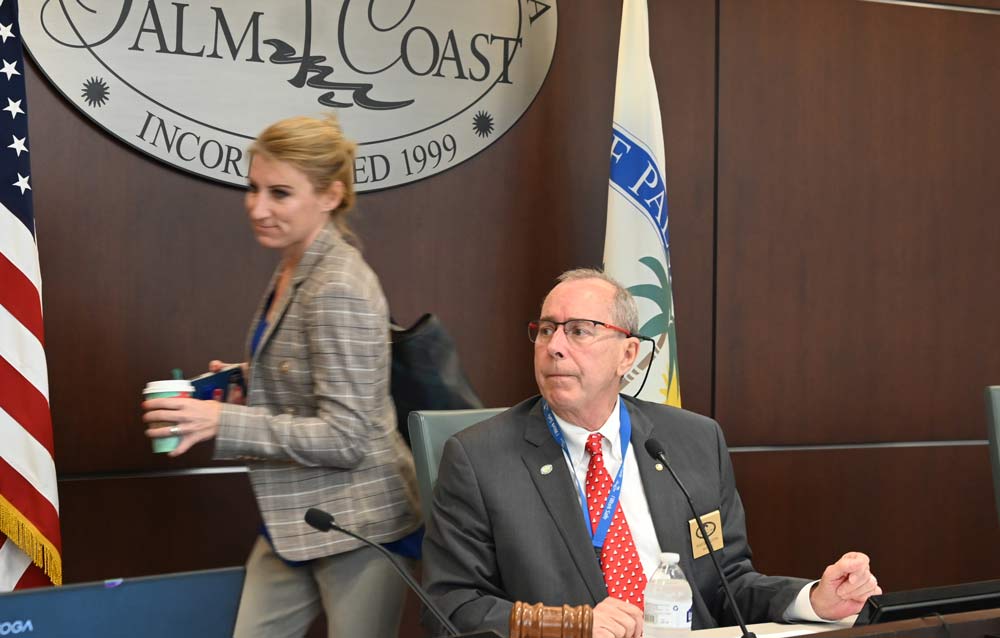 The Palm Coast City Council today approved on a pair of 4-1 votes land use changes that clear the way for up to 850 housing units on 375 acres on the west side of Seminole Woods Boulevard, three miles south of State Road 100.
The proposal, for a project called Cascades, drew sharp opposition from City Council member Theresa Pontieri and an equally sharp defense from the developer, Jeff Douglas of Douglas Properties. The exchange drew in the mayor and other council members and reflects a recurring debate in Palm Coast over the speed, density and purpose of development.
Pro-development voices point to the "nearly $400,000 median price"–in Mayor David Alfin's words–of a single family house in Palm Coast (the median was $379,000 in July), prohibitively high rent and low housing supplies, or as Council member Ed Danko put it: "This is America. This is what we do. We grow. We build. We make jobs."
Pontieri voiced opposition not so much to development, but to what she sees as too many rapid approvals of developments in general and too much density ahead, specifically with the Cascades proposal. "We are going from 416 dwelling units to 850 possibly, and those are the faces right there that these decisions affect. I'm not okay with this," Pontieri said, referring to residents in the audience.
The city's planning board recommended approval in early August. (See: "Cascades Development, Revived from 2005, Calls for Up to 850 Homes on 375 Acres in Seminole Woods.")
The proposal was vested for 416 single-family homes when county government initially approved it as the Cascades at Grand Landings in 2005, on nearly 700 acres, with 354 of those acres were transferred to the county as wetlands and sensitive lands. None of the houses were built. The land was recently annexed into Palm Coast. Today's amendment to the future land use map would enable development of up to 850 units. The ordinance passed on first reading today.
"We are earning a reputation in the city of Palm Coast of if you don't have it in the county just annex into the city, and the developers will be able to double their density," Pontieri said. "You can't blame the developers. That's their job. It is our job to protect quality of life for the citizens of Palm Coast and we are not doing it." She wanted the density kept at the original 416 units. Pontieri said she was speaking for residents.
"I didn't hear the residents say that," Alfin told her, though he has repeatedly made the point that he and his fellow council embers represent residents and speak for them.
"I just need to clear the air of some false messaging that's out there," Douglas told the council, clearly addressing Pontieri. "We're not doubling the size of the of the project. It was originally approved for 416 units. I think we gave 200 acres to environmental where uplands could have been built on, originally. That was in 2005." He said his company gave the city well sites for future water.
As or concerns, voiced by some residents in the audience, that the units will include apartment buildings, he said: "We don't know what we're going to build there yet. I thought we did. I feel like I just walked into something that's utterly unfair because we've given 150 feet [in setbacks], we've gone to hysteria and false messaging and fear tactics. That's kind of sad to the people that have done everything we can to address this." He added: "Shame on the family, shame on the working family, shame on the working person that's getting here. We have zero occupied vacancy and the apartment community. Zero. It's $2,000 a unit I pay, it's actually $2,100 a unit."
Pontieri challenged Douglas further on the different ways they were interpreting the increase in total dwelling units. "It was 415 units," Douglas said. "It didn't include the hook piece. It was never part of it." The "hook piece" is a geographical feature adding acreage to the overall site, and with it, the potential increase in housing units. "Please stop saying that we doubled the size of it. It's simply factually not true," he said.
Anyone reading the city's analysis of the land use change as it appears in the documentation framing the ordinance, however, would fairly see it as a doubling, since citty planners themselves say the net change is of 434 additional units: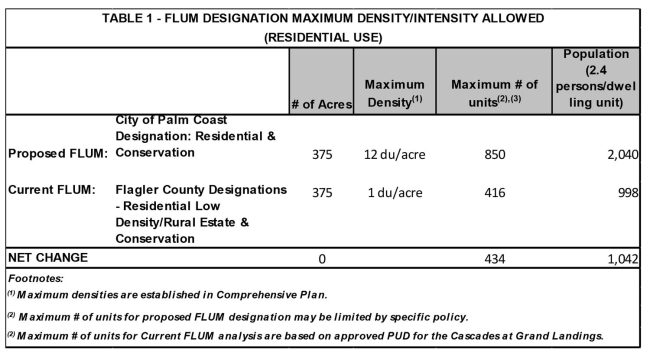 "My issue is not with you or your company or what you all are doing," Pontieri said. "My issue is the fact that we have 14,000 dwelling units in the pipeline right now just this year that we've approved, and this is adding to it." Alfin called "throwing out" the reference to 14,000 units "irresponsible" without context–a context Pontieri said she will provide at the next meeting.
Council member Cathy Heighter also raised some concerns that initially suggested she might vote against the proposal. "I have no problem at all with builders and developers in the city of Palm Coast. But I think that we have to be mindful of our residents and our city and what we're doing to their quality of living," she had said in reference to an annexation item immediately preceding the Cascades discussion. When it came to that, she said her main concern was "what happens when we stack in another 850 units in this development that's there because it is going to have a large impact on the residents of that particular area."
Alfin appealed to her interest in affordable housing (Heighter represents the city on the county's Affordable Housing Committee). "My main concern is not about affordable housing in this case," Heighter said. "My main concern is about what it's going to do to the existing residents that are living there." Still, she voted with the majority.
The land will be vested for 850 units. But today's rezoning was an early step in the process, with specific development plans still far ahead.
Alfin said he wasn't clear what Pontieri's "ask" would be ("I've heard some rather philosophical and quite frankly, some uncomfortable conversation here," he said), and directed the city manager to work with residents and the developer on any concerns. Pontieri specified: "Why not just stick with the 416 dwelling units that are allowed on this property now, why do we have to annex in property and then double the capacity?" she said. "Why do we have to do that? We don't. We up here can say no. The people that have invested in this community, we're pushing them out. We're pushing them out so that we can allow more people who are new and maybe want to live in an apartment that's on the fourth story, so that they can come in. That is not okay."
Pontieri did not present evidence backing up an exodus of residents long established here, ceding the way to new arrivals. Rather, figures do point to a significant population increase driven by older residents looking for smaller homes, a trend mirrored across the country: The intensifying development of the last several years has paralleled a large influx of new residents into Palm Coast, making it the 18th-fastest growing city in the country between 2020 and 2022, according to the Census Bureau.
House sales and construction permitting are among the most solid indicators of development trends ahead. Permitting of single family homes and duplexes in Palm Coast remains robust but has been on a downward trend in the past year, with 1,450 permits issued–an average of 121 a month–compared to 2,216 permits issued in the previous 12 months, an average of 185 permits a month. Over the past 12 months, 2,846 single-family home sales have closed, an average of 237 a month (with about a third of those sales in cash.)
The average sale price–as opposed to the median price–is approaching half a million dollars, but is skewed by pricier homes at the top of the scale. While the median time from a home getting listed to a closed sale had fallen to just below 60 days for most months in 2021 and part of 2022, that measure has averaged closer to 100 days in the last year, according to the Flagler County Association of Realtors' latest report.

cascades-council