Stranger Things fans anticipating the long-awaited return of their favorite TV phenomenon from Netflix were treated to an extra launch preceding the show's Season 4 premiere. Released on May 15, the limited-edition Stranger Things makeup collaboration between Target and MAC features equal parts '80s glam and darkly demonic cosmetics.
The 'Stranger Things' themed makeup collection is split between two worlds
The creative team at MAC partnered with Stranger Things' Emmy-nominated makeup artist Amy L. Forsythe to bring the two-part collection to life. Fans can now shop for eyeshadows, lip glosses, and blushes. All of the products either embrace The Human World of 1986 Hawkins, Indiana, or invoke the inverted hellscape known as The Upside Down.
The bright, bubbly pink powder blush "Friends Don't Lie" ($28) screams small-town '80s vibe. And the dark and subversive shades in "The Void Eye Palette" ($45) and shiny black lip gloss "Skull Rock" ($21) help channel your inner Demogorgon.
Rounding out the collection, you'll find two synthetic bristle makeup brushes in limited edition Stranger Things packaging. MAC's senior artist Fatima Thomas told Hypebae, "This collaboration perfectly captures the essence of the era: spirited, adventurous, and fun."
The cosmetics line isn't the only Stranger Things merchandise being offered by Target stores. The mega-retailer features an online character shop dedicated to the Netflix series. It features everything from toys, games, and décor to Stranger Things t-shirts designed by a diverse group of fan artists.
One 'Stranger Things' star already has a beauty collection
Stranger Things fans may wonder whether MAC and Target's latest collaboration affects another cosmetic line. Florence by Mills is a clean beauty brand launched in 2019 by Millie Bobby Brown, the show's star. It encourages Gen-Z and beyond to define beauty on their own terms.
Lovingly named after Brown's great-grandmother, Florence by Mills features vegan and cruelty-free skincare, makeup, and more with a focus on clean and simple formulas.
Many of Brown's best-selling products are her fun and easy skincare items, like the Mind Glowing Peel Off Mask ($20). It cleanses and detoxifies the skin with charcoal and witch hazel. The fresh, melon-scented "Clean Magic Face Wash" ($12) and depuffing "Swimming Under the Eyes Gel Pads" ($34) are also fan favorites, prominently featured in the "Skincare Besties Set" ($99).
Comparisons between Brown's line and the Stranger Things collab are difficult to draw. MAC has created a handful of colorful, themed cosmetic staples; Florence by Mills offers up a full routine's worth of products. Rather than feel compelled to choose, fans of Brown and Netflix will no doubt be equally excited for both collections.
This isn't the first TV-makeup collaboration, and it won't be the last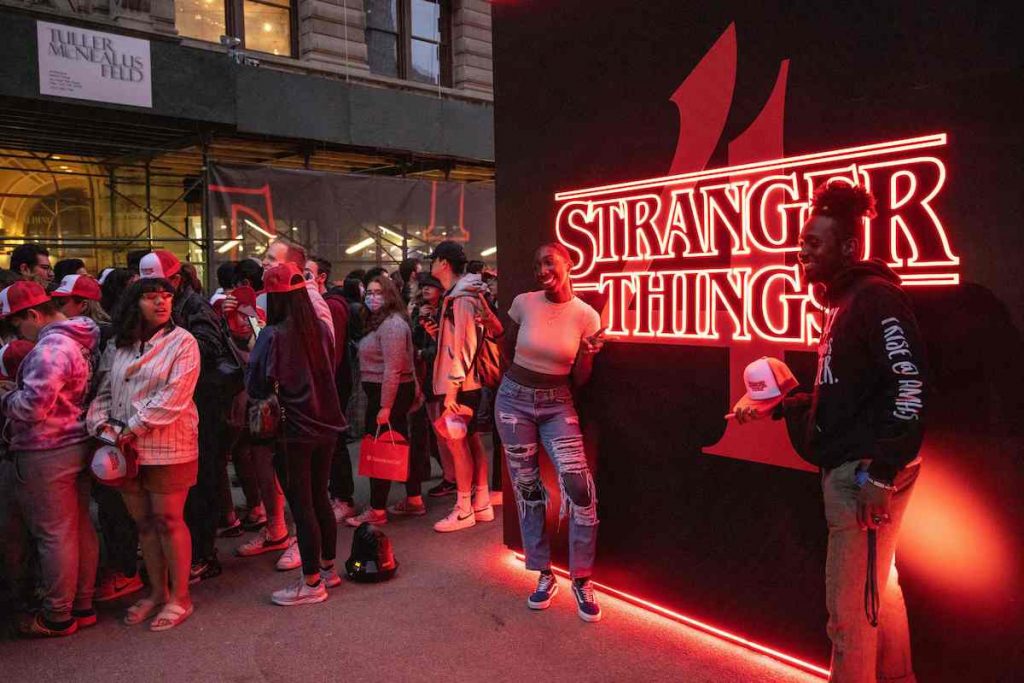 According to Variety, the weekend premiere of the first seven episodes of Stranger Things Season 4 may be the most-watched Netflix series launch ever. This bodes well for the success of the MAC x Target makeup collab. The previous record-holder for the most-watched season premiere belonged to Bridgerton. That Netflix series also recently launched its own cosmetic collection in collaboration with Pat McGrath Labs.
In truth, many TV shows are pivoting to expand their brands into the world of cosmetics. Limited edition makeup lines from series like The Chilling Adventures of Sabrina, Sex Education, and The Gilmore Girls have launched.
Even the raw and emotional HBO hit Euphoria inspired the show's makeup artist Donni Davy to create a glittery cosmetic collection called Half Magic Beauty. Davy told Glamour the line was "born out of Euphoria, but I really want the brand to stand alone as its own entity."
As long as fans keep clamoring for more, we will most likely continue to watch popular shows manifest into best-selling beauty collections.
The final two episodes of Stranger Things 4 are set to be released on July 1, 2022.
RELATED: 'Stranger Things' Season 4 New Characters: Meet Eddie, Argyle, Yuri, and More