Phoebe Bridgers is an American singer, songwriter, guitarist and record producer who was born and raised in Pasadena, California. She was a member of Sloppy Jane before embarking on a solo career. Bridgers' debut studio album, Stranger in the Alps, was released in 2017 to critical acclaim
On May 3, 2022, Phoebe Bridgers announced her instance on abortion last year after the Roe Vs Wade case update appeared. Bridgers after Met Gala 2022 is seen raising funds for Abortion Funds Right Now. She had an abortion in October 2021 while she was on a musical tour.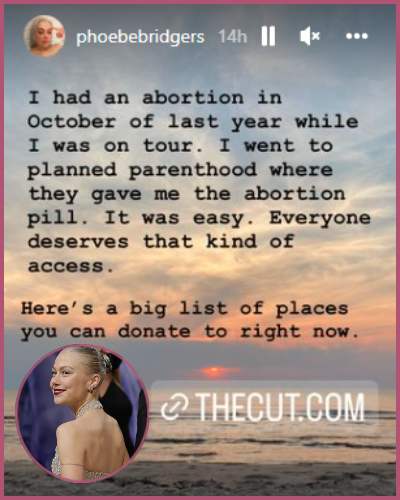 Phoebe Bridgers openly talked about her abortion, she posted all over Instagram story and Twitter and revealed about the abortion she had in October 2021 while on a musical tour.
Though Bridgers has revealed her pregnancy termination she has not revealed who the father was. It might be of Irish actor Paul Mescal who she opens up about the relationship in 2021.
Meanwhile, her confession includes the Instagram story of text written over a background of the beach.
"I had an abortion in October of last year while I was on tour."
She did not stop there and wrote,
"I went to planned parenthood where they gave me the abortion pill. It was easy."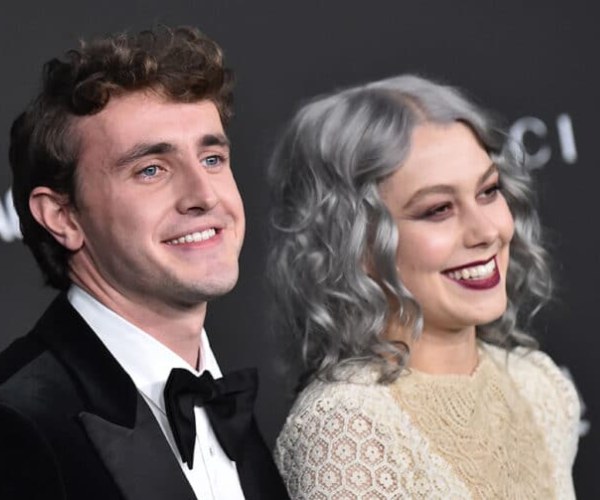 The California-born singer who composed Stranger in the Alps album added,
"Everyone deserves that kind of access."
Her confession ends with a link to an article from The Cut that listed abortion funds to which people can donate.
It's not the first time Bridgers opened up about serious issues. Bridgers has previously spoken about how she has sought therapy which she took for major depressive disorder and anxiety.
Phoebe Bridgers age and family
Phoebe Lucille Bridgers was born on August 17, 1994, in Pasadena, California. She is currently 27 years old and she will be making 28 in August 2022.
Her father was a film and television set builder, while her mother, Jamie, held various jobs including as a receptionist and executive assistant. She has a younger brother, Jackson. Bridgers' parents divorced when she was 19.
Bridgers was raised in Pasadena but also spent some of her childhood in Ukiah, California. As a child, she made extra money by busking at the Pasadena Farmers Market.
Bridgers started playing guitar around age 13. After graduating from the Sequoyah School, she began attending the Los Angeles County High School for the Arts in 2009, studying vocal jazz. She was later accepted to the Berklee College of Music in Boston but dropped out after her freshman orientation.
Phoebe Bridgers relationship
Bridgers identified as bisexual which initially caused a rift between her and her mother, although the two later reconciled and her mother became an enthusiastic advocate.
Bridgers later dated Ryan Adams beginning in 2014, before eventually breaking up; her song "Motion Sickness" is about their relationship.
Bridgers accused Adams of emotional abuse in a 2019 report by The New York Times. She was in a relationship with touring drummer and musical collaborator Marshall Vore until 2017.
Bridgers and Vore co-wrote her single "ICU" about their relationship. The two remain friends and collaborators. Since 2021, Bridgers has been in a relationship with Irish actor Paul Mescal. Bridgers has spoken about her struggles with major depressive disorder and anxiety, for which she has sought therapy.
In May 2022, she announced via an Instagram Story that she had an abortion.
Also read – Ukrainian Nurse, Oksana Lost Both Legs On Russian Mine, Dance With Husband, On Their Wedding Day