After a tumultuous 3 years at Williams, George Russell finally got the Mercedes seat for 2022. He finally was going to fulfill his dream of being a Mercedes F1 driver alongside Lewis Hamilton. Sounds good, right? Well, Russell made it even better by outscoring the 7-time world champion by 35 points in his first season!
ADVERTISEMENT
Article continues below this ad
It can be considered unfathomable, as Lewis Hamilton isn't a driver who has an off-season or gets beaten by a teammate easily. Now Hamilton has had tough fights with former teammates like Fernando Alonso, Jenson Button, and Nico Rosberg. Yet George Russell has shown some amazing consistent performances in 2022.
ADVERTISEMENT
Article continues below this ad
When Lewis struggled with the Mercedes W13 car, George was maximizing his results with a streak of Top-5 finishes in the initial part of the season. Hamilton finished P6 in the driver's championship with 240 points while Russell finished 4th with 275 points.
Fans react to George Russell finishing ahead of Lewis Hamilton in the Driver's Championship
Fans have reacted in their perspectives to this season's performance by Russell. Some opine that Lewis experimented a lot in the initial few races and thus suffered bad results. While others have given the due credit and praises to the King's Lynn-born driver.
no it doesn't? it's thanks to lewis sacrificing the first half of his season that the w13 had even a scrap of pace towards the end of the season. tell the full story.

— kaley 🏁 (@kayldavenport) November 20, 2022
Russel was ahead of Hamilton the whole season i don't know what that has to do with anything. They are both on the same team and worked together to improve the car as much as they have been able to.

— L6 (@LBCars4) November 20, 2022
Hamilton experimenting for half the season needs to be talked about

— ⁹⁹Txrret 🏴‍☠️ (@AbzSemtex) November 20, 2022
Bare in mind suckers, Lewis was trying different experiments for a while trying to see how the car performs vs George's. Next season we'll see!

— MCFC 🐝 (@DanJWoods_YT_) November 20, 2022
We've been talking about this on our podcast for the past couple months. First year on the team and he outdrives Hamilton. Damn.

— Brian S Hall (@brianshall) November 20, 2022
The majority of Lewis Hamilton fans feel that, due to Hamilton experimenting a lot in the initial part of the season, Russell outscored him. But without those experiments, there was no chance for Russell to achieve this feat. Quite an argument!
He's been brilliant! I know Max fans are loving his achievements. I wonder how well Max would've done if George was in the red bull… Guarantee Max would have had a hard season

— Oli (@Plymothianuk) November 20, 2022
This is an interesting comparison between Russell and Max Verstappen. Perhaps an indication of a title fight between these two. Of course, we count Lewis Hamilton in for a 3-way title fight in 2023. Let's keep our fingers crossed for that.
No it doesn't. Hamilton just didn't care where Russel was when he knew the title was gone.

— Ono Michio (@Sega_Shiro) November 20, 2022
George Russell beated the 7 times world champion Lewis Hamilton in equal machinery, wonder where i heard that before

— #MV1 #SP11 🇳🇱🇲🇽 (@__Snnnnn__) November 20, 2022
DIVE DEEPER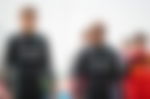 Lewis can't race if he's not at the front simple as… Alonso was right

— Porpoising Repellent (@CaspOfficial) November 20, 2022
ADVERTISEMENT
Article continues below this ad
Not taking anything away from George has he's bossed his first season which I don't think was ever in doubt. But Lewis sacrificed the first half of the year (remember when he was finishing in the bottom half) testing new parts or setups where some didn't work out

— Daniel Wells (@Mr_Wells_4Q) November 20, 2022
To be fair, credit should be given where it's due. And to show the level of consistency to beat a 7-time world champion in your first season is quite praiseworthy from Russell. It certainly reflects that Lewis and George are two alpha drivers at Mercedes and they got a strong driver line-up to take on the championship in 2023.
ADVERTISEMENT
Article continues below this ad
Watch This Story: Daniel Ricciardo left admiring George Russell, they take their bromance a step forward with some PDA
For now, as the 2022 season concludes, Russell will enter the next year with a different level of confidence. If the Silver Arrows can make a competitive car in 2023, Russell would be really looking to mount a championship challenge.