Finding success is hard, but maintaining it is even harder. Be it sports or any other field, consistently remaining at the top is not an easy feat. Talking about GOATs in sports, Michael Jordan enjoyed his days with a basketball, shooting mid-range, and dunking the ball in the basket while having remarkable determination. He worked hard on his craft and became a legend of the game. Michael Phelps did the same in the swimming pool. Honing his craft to perfection, Phelps is a legend of the sport. But, unlike Jordan, he had some god-gifted biological advantages.
ADVERTISEMENT
Article continues below this ad
His enormous wingspan is clearly visible to all as he stands on top of the blocks, ready to strike fear at his opponents. However, there are some other factors, which are lesser-known to people, that give him an advantage over the other athletes. One such is the production of lactic acid.
ADVERTISEMENT
Article continues below this ad
Michael Phelps is a gift from the heavens!
Lactic acid is a byproduct of one's body during the metabolic process of glycolysis. As the body turns glucose into energy, it releases hydrogen ions into the blood. It causes fatigue and reduces an athlete's ability to perform well during critical situations. But Phelps produces lesser lactic acid than others. Apparently, he produces half the lactic acid, unlike other athletes, and it helps him swim at a high level for longer periods.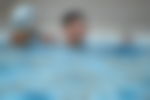 Often regarded as the greatest swimmer of all time, he had various biological advantages over his teammates. Producing lesser lactic acid probably won't mean that the organizers handed the medals to him. Working hard with his mentor, Bob Bowman, Phelps and Bowman worked together to use his gifted physical attributes to the fullest. Thus, it is a great insight to have about the legendary swimmer.
Apart from this, he had various other specific features that helped him become a world-class swimmer.
ADVERTISEMENT
Article continues below this ad
As usual, the wingspan!
People wrote stories about how Phelps' wingspan matches with the wandering albatross. Considering his height is 6'4″, he has an enormous wingspan of 6'7″, and it is not by any means ordinary. It helps him to generate an astonishing amount of power inside the pool. Phelps dominated the butterfly event for a long time, and he practiced that stroke to perfection, using the advantages of his body.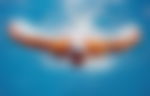 Likewise, he has massive palms and feet. Huge arms helped him paddle through the water while his webbed feet helped him move like a shark. In addition, he has a long torso and long legs that helped decrease resistance in the water. One can probably argue that Phelps has a perfect body for a swimmer. Also, he is blessed with specific traits that have helped him become the GOAT of the sport.
ADVERTISEMENT
Article continues below this ad
DIVE DEEPER