Yes, Bubba Wallace isn't having even an okayish season by the standards he has set for himself and certainly considering the expectations that are around him. But it has to be mentioned that a big chunk of the reason for the state of his season is things out of his control.
Things like pit road failures and mistakes from the pit crew, something that once again happened in Kansas last weekend.
ADVERTISEMENT
Article continues below this ad
But now, ahead of the All-Star race at Texas, Wallace has revealed that he did talk to his pit crew and told them things, as they are, without any filters. Wallace revealed that he "ran into" some members of his pit crew after the victory celebrations of his teammate, Kurt Busch.
"I said what I said, that we did not have a good day at the pit road," he said. "We look at the possibility of winning that race, it was very high. And we never gave ourselves a chance."
"It is what it is, I call it how I see it. We sucked. We sucked that day."
What did Bubba Wallace tell his pit crew?
Having said what he said the way it was, the 23XI Racing driver went on to reveal that he did have a pep talk of sorts with his pit crew as well, that he did in fact, tried to cheer them up and motivated them to move on.
"There's a lot of potential there within our group. And they have to realize that in the moment, you're gonna make mistakes which you gotta forget and move on no matter who says what or what's on," he said.
ADVERTISEMENT
Article continues below this ad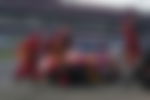 "That's what I told those guys just like, 'Man, you're gonna mess up. Hell, I messed up California. I messed up in Phoenix. I've messed up a lot of races," Bubba Wallace continued.
ADVERTISEMENT
Article continues below this ad
"But the opportunity to come back out and compete again gives you a second chance, so grow from that, learn from that, use it."
WATCH THIS STORY: NASCAR Fans Find Michael Jordan And Kurt Busch's Collaboration "Disgusting"