Mike Sorrentino is best known for his time as "The Situation" on the infamous show Jersey Shore and Jersey Shore: Family Vacation. These days, he lives a much quieter life with his beautiful wife, Lauren, and their young children. 
Mike hasn't had the easiest life, and he and Lauren didn't have the easiest time making their relationship last at first. While they were separated for years, they always cared about each other — and their break-up definitely taught them a few tips for dealing with heartbreak. 
Mike and Lauren Sorrentino's relationship timeline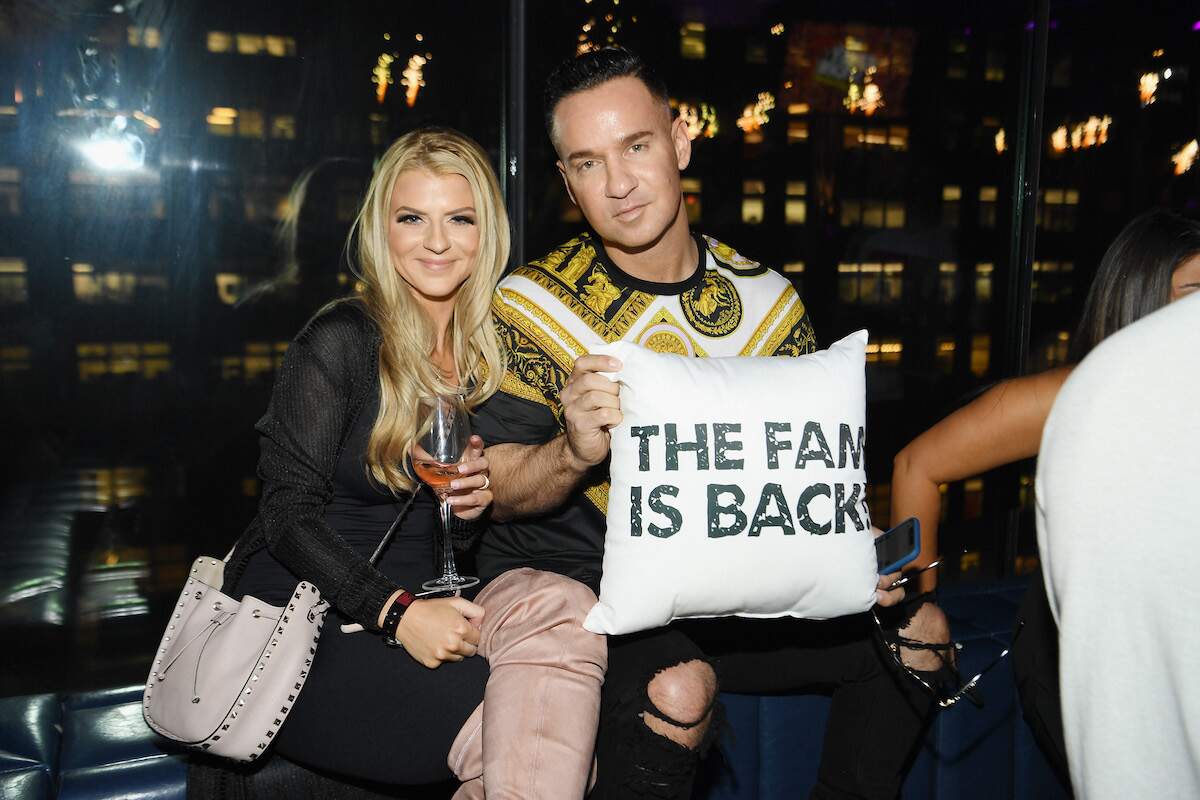 Contrary to what some fans think, Mike and Lauren were not together during his time on Jersey Shore. They actually dated for quite a while before breaking up in 2008. During that time, Mike went to rehab for substance abuse, and he broke up with Lauren because he felt like his life was falling apart. They considered getting back together several times. But when Mike agreed to do Jersey Shore, they both agreed that it was for the best if they didn't date.
Lauren never stopped thinking about Mike, but she lived her own life, going to college in New York City and establishing a career. Mike never stopped caring for her, either. After the show ended, he took a kickboxing class where he knew Lauren would be, and they reconnected. 
The couple's 2018 wedding was dubbed "The Hitchuation" and appeared on an episode of Jersey Shore: Family Vacation. A few months later, Lauren waited out Mike's eight-month prison sentence (for tax evasion), and then they resumed their life together. 
After suffering from a miscarriage, the couple welcomed two children, a son in 2021 and a daughter in January 2023. It has been a long road for them, but they seem like a very happy family. 
Ask The Situations
Last year, Lauren and Mike appeared on a segment for Jersey Shore: Family Vacation called "Ask the Situations." During that time, Nicole "Snooki" Polizzi asked the couple a series of questions that were submitted by the fans. She called the couple "relationship goals."
Read Related Also: 'Grey's Anatomy' alum Isaiah Washington retiring from acting: 'The haters have won'
One fan asked, "How do I move on or deal with a heartbreak?"
Lauren was the first to respond. "I think the best thing is to work on yourself," she said, which made sense since she went to school and definitely worked on herself after her split from Mike in 2008. "Don't jump into another relationship," she added. "Work on making yourself happy for you, because I feel like that's when you attract the love you deserve."
"This is some of the worst advice, but it's kind of funny, and I have to say it," Mike said. "How do you get over somebody by getting under someone else?"
"I knew you were going to say that," said Nicole, while Lauren giggled.
"That is a thing, and do not take that advice," Mike clarified. "It might work temporarily, but you might be pissed at yourself the next day." 
Mike was known for his womanizing on the show, so he clearly didn't take his own advice the first time. However, he said that when Lauren showed him the way to real happiness, which was through his sobriety, he knew she was the one for him. 
What's next for 'Jersey Shore: Family Vacation'? 
Jersey Shore: Family Vacation offers longtime Jersey Shore fans to get reacquainted with the cast and get to know their growing families. While there has been some drama (much like the original series), the cast seems to be enjoying the experience. The second half of Season 6 will premiere sometime this summer. 
!function(f,b,e,v,n,t,s)
{if(f.fbq)return;n=f.fbq=function(){n.callMethod?
n.callMethod.apply(n,arguments):n.queue.push(arguments)};
if(!f._fbq)f._fbq=n;n.push=n;n.loaded=!0;n.version='2.0′;
n.queue=[];t=b.createElement(e);t.async=!0;
t.src=v;s=b.getElementsByTagName(e)[0];
s.parentNode.insertBefore(t,s)}(window, document,'script',
'
fbq('init', '1931209583834020');
fbq('track', 'PageView');