Jimmy Page wasn't just flying by the seat of his pants when he quickly formed Led Zeppelin. Page had a plan for the debut album, and he executed it brilliantly. His intricately planned approach to the band, the variety of styles he played, and his technological innovations made him an influence on guitarists who came after him. Still, one Page solo that influenced Eddie Van Halen ended up being something Page said he could perform as well as EVH.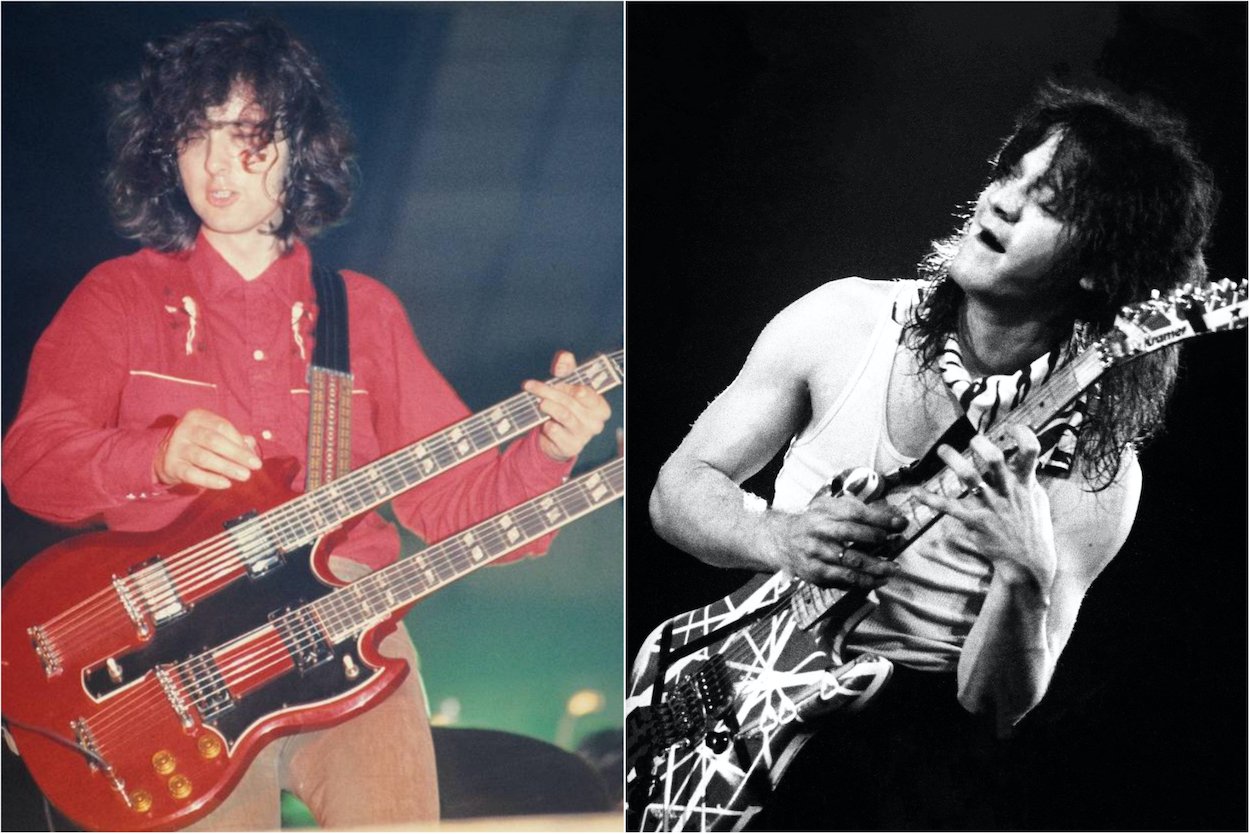 A Jimmy Page solo inspired Eddie Van Halen's finger-tapping technique
Page laid down several outstanding solos that weren't "Stairway to Heaven" on Led Zeppelin's studio albums. He cut loose when the band played live. Page's solos lasted longer and often varied drastically from what he played on the records. Those live shows impacted the next wave of standout guitarists.
Queen's Brian May said seeing Led Zeppelin live was like torture since the band already was what May hoped to be. That was during one of the band's earliest shows in 1969. Page left his mark on Eddie Van Halen a few years later. 
Led Zeppelin played two shows in the Los Angeles area in late June 1972 (per the band's website). Van Halen attended one of them. Having already introduced bowed guitar playing to rock music, Page did some rudimentary finger tapping during a "Heartbreaker" solo at one of the LA gigs. A light went off in Van Halen's head.
"I'm going, 'Wait a minute — I can do that!" Eddie Van Halen said, per Led Zeppelin FAQ author George Case. "Use that finger up here, use this as the nut, and move it around.' That's how I first thought of it." 
Van Halen soaked in that concert moment, worked on his finger-tapping technique over the years, and showed the results to the world on his iconic "Eruption" solo from Van Halen's self-titled debut album. Page's solo was the genesis for Van Halen's finger-tapping style, but Page said he could never play it like EVH.
Page said he could never do rapid-fire tapping like Van Halen did on 'Eruption'
Page and Led Zeppelin profoundly impacted rock musicians that followed in their wake. The band's popularity and his playing make Page one of the most influential guitarists of the 20th century.
Still, when Eddie Van Halen unleashed his "Eruption" solo on his band's 1978 debut, even Page had to admit the apprentice had become the master (per Led Zeppelin FAQ):
"You know, you talk about what I've done on the guitar and what he's done on guitar. I must say that I can't do it."

Jimmy Page on Eddie Van Halen's finger-tapping guitar technique
Page's solo in 1972 showed a teenage Van Halen what rapid-fire finger tapping looked like. Six years later, EVH cemented his status as a guitar god with his fretboard-melting "Eruption" solo that featured finger tapping Page said he could never replicate.
Led Zeppelin's guitarist channeled his influences into a new style
Page helped spawn a hard rock movement that broke with the more lightweight pop tunes of the early 1960s. He arrived there after synthesizing the various styles of musicians who influenced him. 
When he first started playing, Page listened to many music styles to learn as much as possible. Scottish guitarist Lonnie Donegan was an early influence. So were American blues musicians. An Elvis Presley song helped Page learn to play guitar as he sat listening to it and playing along.
Page's long-held interest in avant-garde and Indian music manifested itself on several Led Zeppelin songs, including "Kashmir," one their favorite songs. He routinely brought his folk influences to Zep's tunes. Still, one of Jimmy Page's solos that inspired Eddie Van Halen was something Page couldn't possibly perform the same way.
For more on the entertainment world and exclusive interviews, subscribe to Showbiz Cheat Sheet's YouTube channel.